Twenty-six-year-old Zoya Afroz from Mumbai was crowned as the Miss India International 2021 during a glittering pageant, organized by Glamanand Supermodel India on August 21 at Kingdom of Dreams, Gurugram, Haryana, India. Zoya also bagged three sub-titles, namely 'Best in Evening Gown' and 'Miss Glamorous Eyes' and 'Top Model'. Zoya Afroz, who promotes Girl child education and financial independence, and wants women to acquire basic knowledge and the right to opportunity, will now represent India at Miss International in November 2021 in Yokohama City, Japan.  Zoya Afroz's journey in showbiz started early. She started working as a child artiste in the television series Kora Kagaz in 1998 and went onto do hit films such as Hum Saath Saath Hain (1999), Mann (1999) and Kuch Naa Kaho (2003).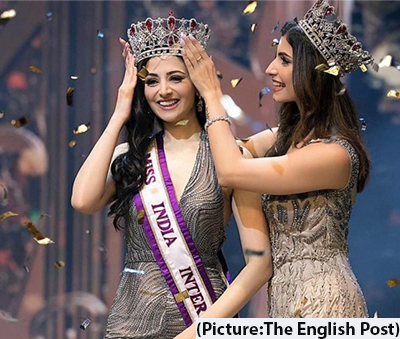 The 24 stunning national finalists from different parts of India who had competed at the prestigious pageant included Zoya Afroz, Archana Ravi, Aishwarya Dikshit, Naina Vijay Sharma, Tanya Sinha, Sejal Renake, Himani Gaikwad, Megha Shetty, Megha Julka, Deeksha Narang, Shivani Tak, Saachi Gurav, Asmita Chakraborty, Tanu Shree, Shweta Shinde, Hannah Tamalapakula, Susang Sherpa, Disha Shamwani, Isha Vaidya, Annu Bhati, Arushi Singh, Divija Gambhir, Shalini Rana, Anisha Sharmathe. Divija Gambhir was crowned Miss India Multinational 2021 and Tanya Sinha was crowned Miss India Globe 2021. Asmita Chakraborty and Anisha Sharma were crowned as the first and second runner-ups, at the end of the event, respectively. Divija Gambhir is a 21-year-old who started her own community which helps the stray dogs find shelter and food. She aims to become the voice of the voiceless, is a trained dancer and enjoys modelling. Tanya Sinha will represent India at Miss Globe International. She's 23-year-old from Jharkhand and holds the advocacy of addressing the issue of untouchability especially in rural areas.
Glamanand Supermodel India is one of the three major pageants of India having one of the Big four franchise under the national pageant. Glamanand is a national preliminary to the biggest International pageants in the world, including Miss International, Miss Multinational, Miss Earth, Miss Grand International, Miss Intercontinental, Miss Globe International, Miss and other international pageants. The competition was judged by Editor-in-Chief of TMM Magazine Kartikya Arora, Businessman Yash Raj Tongia, Amit Karkhanis, Miss India International 2019 Simrithi Bathija, Miss India Multinational 2019 Tanvi Malhara, Rekha Vohra and Varun Katyal.
Zoya Afroz was born in Lucknow, Uttar Pradesh, India to her parents, Shadaab Afroz and Saleha Afroz. She studied at R N Shah High School in Mumbai and earned her bachelor's degree in commerce from Mithibai College in Vile Parle, Mumbai, India. Zoya started her career from Indian commercials, films and television series. In 1999, she starred in the films "Hum Saath Saath Hain" and "Mann." In 2000, she starred in the TV series "Jai Mata Ki." Along with that in 2001, she played Mukta in the Hindi film "Sant Gyaneshwar. Continually in 2003, she played Aarya in the Hindi film "Kuch Naa Kaho." In 2004, she played Dimples in the TV series "Son Pari."In 2005, she played the title role in the English film "From Tia With Love." In 2012, she played Channo in the Punjabi film "Sadi Gali Aaya Karo."
She was Femina Miss Indore in 2013 and at Femina Miss India 2013, s he was second runner-up. She was named Beauty Queen of the Year at the 2013 Bharat Ratna Dr Ambedkar Awards. Joining the Miss International pageant has always been dream of Zoya. In fact, she has been waiting for this opportunity since 2013. Zoya took to her social media to share her crowning news as she wrote, "Proud to announce – I will be representing INDIA at the 60th Miss International. So grateful for this opportunity to live my dream. Thank you Glamanand Supermodel India."