Harnaaz Sandhu of India was crowned the 70th Miss Universe 2021 on Sunday, December 12th topping a field of some 80 contestants in a pageant that was touched by politics and the pandemic. The previously reigning Miss Universe, Andrea Meza of Mexico, crowned her successor, a Bollywood actress, in the Israeli Red Sea resort town of Eilat.
Harnaaz Sandhu, the Punjabi film actress and an alumna of Chandigarh's Post Graduate Government College, Sector 11, won the coveted crown 21 years after Lara Dutta won the title in 2000. The 21-year old is described on the Miss Universe website as "a strong advocate for women's empowerment, particularly their constitutional rights to education, careers, and their freedom of choice."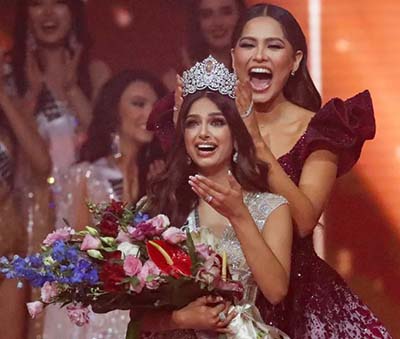 In a glittery show held in Eilat overnight for a live prime time broadcast in the US, Miss India took a jaunt around the stage as directed by host Steve Harvey after he announced she had won the Miss Universe 2021 competition.
Sandhu was surrounded by 79 other pageant participants who stood in the background as gold confetti rained down and the crowd cheered while last year's winner put a crown on her head.
Hailing from Punjab, India, Sandhu beat out Nadia Ferreira also known as Miss Paraguay who placed as runner up, and third choice winner Lalela Mswane, also known as Miss South Africa. Miss India is a model, recently having acted in two Punjabi films, studied information technology and is now working on a master's degree.
Judges on the panel included some heavy hitters like Lori Harvey, Steve Harvey's model-actress daughter who owns her own skincare line; Miss Universe 2016 Iris Mittenaere of France; actresses Rena Sofer, Urvashi Rautela, Marian Rivera, Adamari López; and supermodel Adriana Lima.
Contestants participated in a series of competitions including swimsuit, evening-wear and rounds of questions. The queens held their composure on stage following three weeks of 3 a.m. wake-ups, late nights and touring the country.
The final question – "What advice would you give to young women watching on how to deal with the pressures they face today?" – was asked to each of the last three women standing. While one contestant was answering, the other two wore soundproof earphones so as not to be affected by their competitors' answers.
Sandhu replied by saying women need to believe in themselves and speak out in order to rise above the pressures of today's world.
Israel's international pop sensation Noa Kirel opened the night with a full dance routine equipped with a backup crew wearing sparkly dresses. The American pop star JoJo performed various numbers throughout the night as women paraded around the stage in evening gowns behind her.
Miss India told the media after the pageant ended that her favorite part of touring Israel was getting into the water and swimming with dolphins at Dolphin Reef in Eilat.
"There are a lot [of memories] and that was one of my favorites. Israel is a beautiful country and the people are so warm, and that's what I love about Israel," Sandhu said.
Days before she was crowned Miss Universe, Harnaaz Sandhu, 21, wrote on Instagram the words, "India, this one's for you." The days of waiting anxiously, working hard to perfect the deliveries to be made, the walk, the talk, learning to expect the unexpected, all part of this 70th pageant, are over.
On her Instagram site, Sandhu wrote, "It's been 74 days since the day I was chosen to represent India at Miss Universe 2021. It's been a ride full of love, fun and immense hard work," Sandhu. "As I set to walk out on that stage today as 'India', I carry with me your prayers & love. Thank you to my family for standing by me, today & always. Thank you to all my panelists & designers who have put together so beautifully this woman who now stands in front of you. Thank you everyone. It would not have been possible without you," she added, ending with the unforgettable words, "India, this one's for you."
Professionally, Sandhu is an actor with two Punjabi LMS (Local Movie Showtimes) slated for release in 2022 and hopes to essay characters in LMS that break stereotypes that the world has of women, the bio says.
Growing up under the wings of a mother who is a physician, specializing in gynecology, Sandhu, appears to have been inspired by her mother's example, as a woman "who broke generations of patriarchy to become a successful gynecologist and led her family."
Sandhu grew up working with her mother at health camps addressing women's health and menstrual hygiene, "at the same time deeply conscious of the privilege her mother's struggles have gifted her."
She also draws inspiration from Bollywood-Hollywood actor Priyanka Chopra, who is her favorite actor. In her spare time, Sandhu enjoys the company of friends, loves yoga, dancing, cooking, horse riding, and playing chess. She loves swimming. She believes in the saying – "Great things happen to those who don't stop believing, trying, learning, and being grateful."
She also stated that she was looking forward to strengthening relations between Israel and India and was super excited about the challenge. She said, "I have to bring back the crown home." The Bollywood aspirant has kept her word and made India proud. Sandhu said, "One must keep growing through life as we all learn something every day. To believe in yourself is the key to success. I represented myself as the best version of myself."
Sandhu believes that pageants are a platform where women come forward to celebrate sisterhood and womanhood and people across the world celebrate their beauty queens and their successes with great pride. "According to me, it's all about being true to the self and people around you will definitely look at that spark in you," she stated.
The 21-year-old's winning response to a question on climate change — "This is the time to take action and talk less. … Prevent and protect is better than repair and repent" — helped her clinch the coveted title.
Sandhu's final statement at the pageant was about the pressures that young people face across societies today. She said: "The biggest pressure the youth of today is facing is to believe in themselves, to know that you are unique and that's what makes you beautiful. Stop comparing yourselves with others and let's talk about more important things that's happening worldwide.
"This is what you need to understand. Come out, speak for yourselves because you are the leader of your life, you are the voice of your own. I believed in myself and that's why I am standing here today."