Indian American incumbents Usha Reddi in Manhattan, Kansas, and Sterley Stanley in New Jersey were victorious in their bids for another term in office, Aditi Srivastav Bussells won a council seat in South Carolina, while Nalini Joseph fell short in her race during the Nov. 2 election.
Suhas Subramanyam was reelected to the House of Delegates, in the state of Virginia beating challenger Greg Moulthrop On November 2nd, 2021. Subramanyam won 21,374 votes — almost 60 percent — while Moulthrop received 13,939 votes, almost 40 percent. Subramanyam, 35, represents District 87 in Virginia's House of Delegates. He is the first Indian American to win a seat in the state's General Assembly.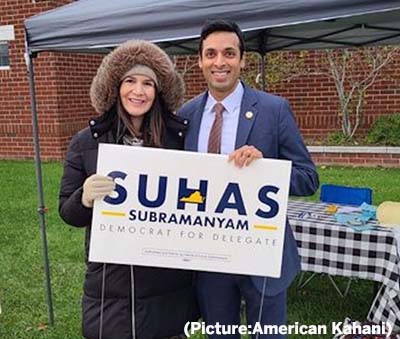 Republicans won 50 seats Nov. 2 in Virginia's House of Delegates, while Democrats won 40, for a 55-45 Republican majority overall at the statehouse. In one of the most-watched races of the evening, Youngkin beat former Virginia Governor Terry McAuliffe, a Democrat. Virginia has traditionally been considered a solidly blue state.
"I am so humbled and grateful that the 87th District has put their faith in me again as their Delegate. I promised two years ago that I would put people over special interests and do everything I could to empower my constituents. I am proud to have kept those promises, in the process fully funding our schools, curbing gun violence, addressing rising tolls and utility costs, and helping small businesses and families through one of the worst pandemics in our Commonwealth's history," said Subramanyam. "I am so thankful to all the staff and volunteers who knocked doors, wrote postcards, and made phone calls. This night would not have been possible without them."
Reddi was the top vote-getter for the Manhattan City Commission, according to results late Nov. 2, tallying 3,571 votes followed by incumbent Mayor Wynn Butler (3,499 votes) and former commissioner John Matta (3,265 votes). Reddi and Butler earned four-year terms as the top finishers, while Matta received a two-year term for taking third.
Reddi, who was first elected to the commission in 2013, said this was her most stressful city commission campaign, according to The Mercury. "I wasn't even sure where I was going to place in this race," Reddi said in the report. "Even though I have served two terms, I think there were very good challengers. There was a lot of good campaigning going on from everyone, and everyone was vying for all the votes." Reddi expressed her appreciation to the voters. "I value their support and I hope I have worked for them and with them to continue to move Manhattan forward," she said, the report added.
Stanley – along with fellow incumbents state Sen. Patrick Diegnan and Assemblyman Robert Karabinchak – won reelection to his Assembly seat in the 18th Legislative District in New Jersey, representing East Brunswick.
Stanley beat realtor Angela Fam and South Plainfield Councilwoman Melanie Mott to win the seat. He is the delegation's newest member, and one of the newest members of the entire legislature; he was selected in January of this year to replace now-Middlesex County Clerk Nancy Pinkin (D-East Brunswick).  Stanley earned 27,249 votes with Karabinchak taking 28,065 to claim the two seats. Fam took 20,822 votes and Mott had 21,449. Diegnan beat Republican counterpart Vihal Patel of Edison to claim his seat. Patel earned 20,596 votes to Diegnan's 28,829.
In Columbia, South Carolina, Aditi Bussells was among a crowded field seeking the city's councilmember at-large seat. In the seven-person field, Bussells led with 5,643 votes for 31 percent with all precincts reporting, though the results were still unofficial. Bussells was 5 points ahead of Tyler Bailey who had 26 percent of the vote with 4,695 tallies. Heather Bauer was third with 3,562 votes for 20 percent. Deitra Matthews (11 percent), John Tyler (4 percent), John Crangle (4 percent) and Aaron Smalls (3 percent) rounded out the field.
In Salisbury, North Carolina, Nalini Joseph was vying for a council seat, but came up just short. Incumbents Tamara Sheffield and David Post, along with newcomers Harry McLaughlin Jr. and the Rev. Anthony Smith won the seats. Guardian ad Litem District Administrator Joseph finished fifth with 13.90 percent. Sheffield led the field with 18.01 percent of the vote, followed by McLaughlin at 16.15 percent, Post at 15.69 percent and Smith with 14.29 percent.
Though Joseph received just 64 fewer votes than Smith, Rowan County Board of Elections executive director Brenda McCubbins said the numbers don't fall within the acceptable range to request a recount, the Salisbury Post reported. For recounts, the difference in votes between candidates must not exceed 1 percent of the total votes cast for that particular race. A total of 16,127 votes were cast for council candidates, including 100 write-in votes, the report said.
Indian American attorney Nisha Arora, who would have been the first non-white judge in Lackawanna County, Pennsylvania, lost her bid for the Common Pleas Court Judge seat Nov. 2 evening to Democrat Mary Dempsey. Arora began her career as a law clerk in the Court of Common Pleas of  Lackawanna County. "Working in the court system truly influenced the person I am today. Dealing closely with judges who handled both criminal and civil cases, as well as working with the various treatment courts, gave me an insight into the position I am now seeking," she said.
"My varied career experience has taught me about high points and low points. A courtroom can be a place where an individual experiences his or her worst time, perhaps losing a child in a custody case, facing imprisonment, or a significant monetary judgment." The 41-year-old daughter of Dr. Subhash and Sunita Arora decided she wanted to pursue the law at the age of eight.