Ganesh Chaturthi is just days away and like every year there are discussions about celebrating the festival popular in several parts of India with devotion and fervor. As people are busy preparing majestic idols for the festival, there are people trying to bring awareness about eco-friendly Ganeshas.
Joining them, BJP MP from Bengaluru and the Union Cabinet Minister for Chemicals, Fertilizers and Parliamentary Affairs Ananthkumar urged people to go for an environment friendly Ganesh Chaturthi with Eco-Ganesha.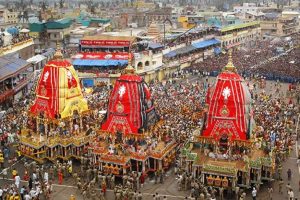 He shared an image and an article by an NGO highlighting how Lord Ganesha is a god of nature representing natural elements, and mentioned that using artificial and harmful material used for the idol won't please the god. His tweet was well received on social media as many going for the same last year were appreciated and even PM Modi urged people to use natural clay idols.
Asa per reports, artisans in the Indian city of Hyderabad have begun making eco-friendly idols of the Hindu god Ganesh ahead of a religious festival. The statues of the elephant-headed deity are being made from a special clay known as "Kolkata ganga". The Ganesh Chaturthi festival, also known as Vinayaka Chaturti, celebrates the arrival of Ganesh to earth from Kailash Parvat with his mother Goddess Parvati/Gauri. This year the religious festival falls on September 10.
Ahead of Ganesha Chaturthi, an organisation based in Gujarat's Vadodara has made eco-friendly 'Vedic Ganesha idols' for the occasion.
Mukesh Gupta, the Director of Kamdhenu Gau Amrita said that the eco-friendly Ganesha idols would benefit the environment as they can be dissolved in water or be used as fertilisers.
"With Ganesh Chaturthi coming up, we are making Ganesha idols using cow dung. The biggest advantage is that these idols can be dissolved in water at the time of visarjan (immersion) so one need not go to a river, they can immerse the idols in water tubs also, and they can be used as fertilisers. The second advantage is that this idol is cheaper than the idols made of plaster of Paris (POP) or clay," he said. 
Meanwhile,m reports suggested, eco-friendly Ganesha idols made from cow dung by Kanta Yadav and her family in Bhopal are in great demand among people. "These Ganesha idols are made from cow dung. After the cow dung is dry, we add wood dust and maida powder to it. We pour the mixture into a mould and make an idol from it. We use natural ccolors In Hindu culture, cow dung is considered sacred and that is why we chose to make idols from it," Kanta Yadav told ANI.
She further said, "These idols can be made in 15 minutes but it takes four to five days to dry them. After that, they are coloured and are ready in 8 days."
These idols are inexpensive and can be bought by all Kanta said, and added "Apart from Bhopal, I get orders from other places, including Pune and Delhi. People are really keen on buying these idols. Many people want to learn how to make them too."