"A woman is defined by her courage and self-confidence," Dr. Tejaswini Manogna, Miss India-Earth 2019 and the titleholder of Divine Miss Earth India 2019, in her eloquent and inspiring keynote address at the Women's Forum told the hundreds of AAPI delegates during the Global Healthcare Summit in Hyderabad earlier this month. "Be brave to voice your choices and do not give up your goals. Speak up. Do not suffer in silence. Be bold and brave to voice your opinion. If a woman can lead at home, she can lead the world. Dream to do something for others. If I can do it, you all can do it," Dr. Tejaswini Manogna said.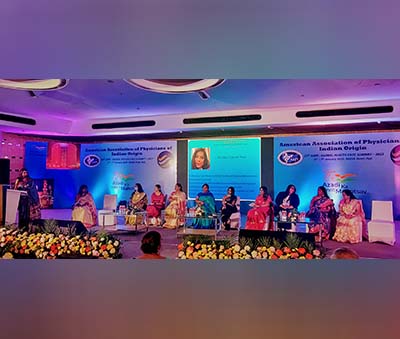 The Women's Forum organized by Dr. Seema Arora, Dr. Udaya Shivangi, Dr. Meher Medavaram, Dr. Malati Mehta and Dr. Uma Jonnalagadda, had a galaxy of successful women, who shared with the AAPI delegates their own stories of growing up and facing challenges with conviction and courage, and have today become role models for other women around the world.
The Women's Forum had Dr. Meenacshi Martin, a practicing consultant Psychiatrist and award winning Theater Artist, Film, Television and Netflix Actress; Dr. Juby A. Jacob-Nara, a Public Health Physician, Vice President and Head of Global Medical Respiratory Allergy & Gastroenterology (Sanofi-Genzyme) who has been a part of over 50 new medicines successfully launched including vaccines in the US and globally; Dr. Shantha Kumari, a senior gynecologist and laparoscopic surgeon, committed to have 'Cancer Mukt Bharat' by 2030, to elevate women's health globally and to stop violence against women; Preity Üpala, a former investment banker turned into 'Thought Leader, Media Entrepreneur' and a Miss India International, based in Hollywood, California, is a Geo-political Expert, award-winning International Columnist, and director of The Omnia Institute and, Dr. Tejaswini Manogna, Miss India-Earth 2019 is an Indian model and beauty pageant titleholder. A medical doctor by profession, she won the title of Divine Miss Earth India 2019 and represented India at the 19th edition of the Miss Earth pageant held at Parañaque City, in the Philippines
Miss India-Earth 2019, in her keynote address at the Women's Forum during the 15th annual GHS 2022 organized by the American Association of Physicians of Indian Origin (AAPI) in Hyderabad, India, referred to how the "Nature has given us, the women a bigger responsibility of being a mother, who has a huge influence on one's children." Stating that her own mother "taught me the value of simple living and high thinking. She did the best to give me the best in life and gave me the path, and attitude of never giving up. Be grounded and humble in spite of all the accruements," she said.
Telling the audience that she has the vision to be "the voice and be the ambassador for the youth," Dr. Manogna, the young and charming young leader said, "This vision has given me the inspiration to wear many hats and achieve many things in life."
Preity Üpala, the Host of a popular show called 'The Preity Experience' shared with the audience, her own personal life and stated: "IWhat has inspired me in my life and how my life can be of inspiring to all. In the 21st century, we need to redefine empowerment. Be proud of where you come from and our culture and we have much to teach the world." While describing that "A woman is a like a tea bag, we would know only when she is in hot water," she said: "Women are the future of the world."
She stressed the need for understanding the importance of "Culture, which is my upbringing and values. Power is how you can be in harmony within you and with the others; Dharma, which is the purpose and the path that help make an impact; And, finally,  Fulfilment, which is in the journey but not at the end. Leave the world a better place than you had inherited and have the joy of making a positive impact," she told the AAPI delegates.
Dr. Shantha Kumari, President of Federation of Obstetric & Gynecological Societies of India, the Treasurer of the International Federation of Gynecology and Obstetrics urged her fellow women to "Have the courage to say NO to violence against women. Women across the world are being impacted by violence. If you have the will, you can do it. Encouraged all women to do regular cervical cancer screening to avoid cancer, which will result in 'Cancer Mukht Bharat.
She advocated for involving local leaders who can help make changes. DHEERA in collaboration with WHO and UNICEF is now offering online certification courses.  Stating that "Women in India are more empowered than women in many other countries of the world," she said, "Women should have the right to choose her life, when to do marry, give birth to child and raise them."  Partnering with men, she called upon women to "create awareness about the need for gender neutrality. "You will be empowered only when you can help empower others," she said.
Dr. Juby A. Jacob-Nara, Vice President and Head of Global Medical Respiratory Allergy & Gastroenterology at Sanofi-Genzyme told the AAPI delegates: "I am here to represent women across the world." Born in New Delhi to a mother who was extremely poor, but worked hard and became a Nurse and immigrated to the US. "Despite the many hardships, she helped us get the best education and that brought about changes. Mother is the key pillar in one's life, and let us continue to elevate her." Stating that, "prevention is more worth than treatment" she said, "Empower. Educate. And, Inform about the need to prevent illnesses."
Dr. Meenacshi Martin, an award winning Theater Artist, Film, Television and Netflix Actress, shared with the audience her own personal story of how born and  raised in a remote village in India, facing numerous challenges at early ages of life, has helped her achieve many things in life today. Faced with numerous road blocks and overcoming them bravely in life, she told the audience how being a full time mother to a son with cerebral palsy, she has been able to pursue her goals in life, fulfilling her passion for Medicine and acting, all going together. She said, "As we grow and mature, our goals keep changing. We, the women are very adaptive. When faced with resistance or failures, challenges or pushed to the wall, we are forced to react.  Everyone gets that inner courage when you are faced with challenges and pushed to the corner."
Dr. Seema Arora, Chair, AAPI National Women's Committee, a Past Chair Board of Trustees of AAPI, and a strong advocate of women empowerment and has been playing an active role in uplifting women in various walks of life, in her introductory remarks, gave an  overview of the programs organized by the Women's Forum, with focus on "women who inspire." Introducing the panelists, she called them, "an inspiration to the world."
Dr. Arora said, "The Women's Forum had a panel of "Women Who Inspire" from all walks of life who have achieved extraordinary feats in each of their phenomenal lives. This exhilarating forum has been organized with the objective of bringing together some of the most accomplished women under one roof who are role models for all other women around the world."
Quoting the famous and inspiring words of Mother Teresa, 'I alone cannot change the world, but I can cast a stone across the waters to create many ripples,' Dr. Meher Medavaram, Chair of GHS Women's Forum, and the regional director for AAPI Northeast central division, Illinois Indiana and Wisconsin, said, "This is precisely what some of these amazing women leaders are going to shed light in the women's forum at the GHS summit!"
Dr. Shivangi, Advisor to AAPI Women's Forum underscored the importance of the Women's Forum in AAPI convention and Global Healthcare Summit, and how it has evolved and today it's one of the much sought after event, with distinguished panelists on the Forum. "The Women's Forum is where successful and powerful women come and share their life's dreams, challenges and this empower and inspire other women. Today's Forum is about how career changes by women affect t them and the larger society."
In her concluding remarks, summarizing the inspiring life stories of brave women who have shown the path to many others around the world, overcoming the challenges, Dr. Anupama Gotimukula, the only 4th Woman President of AAPI in the past four decades, said, "That was amazing to hear your personal stories of inspiration." Reflecting her own life, the Woman Leader, who has made huge contributions to AAPI in her own unassuming manner, while taking AAPI to newer heights, said, "I look at myself and say, 'you can do it, if only you put your heart and soul into it.' Nothing is impossible. Impress yourself and be proud of your own self."
Representing the interests of the over 100,000 physicians of Indian origin, leaders of American Association of Physicians of Indian Origin (AAPI), the largest ethnic organization of physicians, for 40 years. For more details, please visit:  https://aapisummit.org/www.aapiusa.org