The red carpet at the Cannes Film Festival is one of the most glamorous in the world of showbiz and Deepika Padukone, who was a jury member this year, had multiple occasions to showcase her sartorial picks. And so for the final leg of her this year's Cannes festivities at the closing ceremony on Saturday, May 29th the actress made it count and how.
For the closing ceremony, the actress showed up in a ruffled white saree by Abu Jani-Sandeep Khosla. She accessorized with an equally stunning pearl necklace. Her kohl rimmed eyes, contoured cheeks finished off the look.
Deepika Padukone, who is serving on the jury of the 75th Cannes Film Festival, said in an exclusive interview to 'Variety' that it "gives me goosebumps every single time I walk into the Palais and we leave — it gives me goosebumps because every single person on that seat is there to celebrate cinema".
Deepika was familiar with the work of some of her fellow jurors, including Asghar Farhadi and Rebecca Hall, but not all. "I wasn't entirely familiar with all of them, as is the case with all of the jurors," Deepika told IANS. "I think what all of us did was to actually read up on our fellow jury members and watch some of their work. So, even when you deliberate, you understand where they're coming from, or what kind of cinema speaks to them."
The actor sees being on the Cannes jury as a natural progression of her journey, but at the same time being invited came as a surprise to her. "They (the festival management) seem so convinced about why they made that decision. And it makes me sit back and think sometimes maybe I've not given myself enough credit," she said, adding: "If I've landed here today, without even realising it, I must be doing something right."
The actor has just wrapped Siddharth Anand's "Pathaan", alongside Shah Rukh Khan and John Abraham, and is working on "Project K" by Nag Ashwin. Next up is the Indian remake of "The Intern", alongside Amitabh Bachchan, which she is also producing via her KA Productions along with Warner Bros. and Sunir Kheterpal for Athena.
Cannes, meanwhile, is going to become a regular mid-year holiday destination for Deepika and her husband, Bollywood star Ranveer Singh, reports 'Variety'. Her jury service allows them access to the jury box in future years.
"We just come here for two weeks, nobody needs to know," Deepika said. "Watch movies, sneak in, sneak out. We'll be like kids in a candy store."
Actress Deepika Padukone has worked towards normalizing mental health to enlighten everyone that mental illness is not always critical, but can be the reason our daily lives includes so much stress.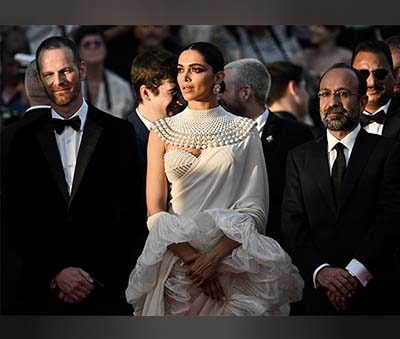 The actress now features in a Yoga Campaign, Yoga Make Space, leveraging an initiative which revolves around mental health and fitness. adidas and Deepika together celebrating what brings different people to the mat, no matter their background, ability, or reason to practice.
The Yoga Make Space collection has been consciously crafted, inspired by the elements of nature and aims to support through every move and practice, with apparel for women and men.
When did you start practicing yoga?
Deepika: I started practising yoga with consistency about two years ago after what felt like a deep inner calling. At around the same time, I was also offered a movie where I was given the role of a yoga instructor. In short, it was an inner calling mixed with the professional requirement that eventually pushed me to look for the right instructor and get going on my yoga journey.
What is the connection between nature and practising yoga?
Deepika: The beauty of yoga, apart from its numerous benefits, is that you can practice it in absolutely any space, in any part of the world. We often talk about being self-reliant. Yoga is one such practice. All you need is your mind and your body.
What are your thoughts on the benefit of practising yoga?
Deepika: I have, over the years, been exposed to many different types of workouts, exercises and practices. However, practising yoga, makes me feel the most centred, balanced and grounded. Feeling alive and connected from within, like I am in control, is something I have never experienced in any other practice, except for in yoga.
What does 'make space' means to her?
Deepika: adidas' Yoga Make Space has not only given me a chance to talk about fitness but it is also giving me a space to discuss mental health which society still feels afraid of. When I hear the term 'make space' it reminds me of postures that I hold for a minute. Sometimes more. And when you truly tune in, you feel your body opening up and oxygen running into your bloodstream. That, for me, is making space within my body.