The Series: Part 2
The Wonderful Privilege of Running!
 How wonderful it is to run. Something so simple, the act of putting one foot in front of another, can bestow so much joy. Ask anyone who runs ! They feel only gratitude for all that they achieve, physically and mentally, as a runner.
Running seems to keep reminding them of the many amazing things our body can do and it helps them to appreciate their strength and challenge their limits to overcome weaknesses. Running is a privilege, and is still a niche among
athletes. Many still view it as a highly elusive sport. To help banish the hype behind something as basic as the
joy of running, brought about the concept for a series, on the incredible "Everyday Elite" runners of India. Stories of strength and resilience and a show of daily perseverance in face of adversity. Runners are somehow the best people to have in one's life too. The qualities that define their running also shine a light on the incredible personalities they themselves are in their personal lives too. These athletes are aware that there may be a day when
they won't be able to continue pursuing this high endurance sport. Everyday, that they feel strong as a runner, they celebrate it !
As you read the stories that outline their running journey you will notice surprisingly consistent similarities in their spirit. Tales that reveal that these athletes may be reaping the benefits from running but their real strength as a
runner lies beyond sheer talent and consistent training. We connected with some of the Incredible "Everyday Elite" runners of India and asked them to share their running stories of passion and achievement to understand their "Why". Sit back and enjoy this easy pace journey as we shed light into their journey and reveal the totally relatable
and inspiring top personality traits that these "Everyday Elite' thrive on.
Everyday Elite: Anoop Sharma
"Winning isn't everything, but wanting to win is. You have to expect things of yourself before you can do them"
They say a runner's grit often comes down to steely inner strength and unshakeable faith. Let us start with the remarkable story of our "Everyday Elite" Anoop Sharma. A Mechanical engineer turned entrepreneur for whom
running is an integral part of life just like breathing or eating. An accomplished runner worth his mettle, he
understands very well that through hard work and focusing on compartmentalising one's fears, all runners can learn
to remain in the moment. It is his core strength as a runner and one of the reasons why he is an irreplaceable member of his running group.
This Delhi based 51-year old athlete is a father of 2 and recalls how his better half, Kiran, who he calls his pillar of strength, has been his anchor through the various ups and downs of his fitness journey.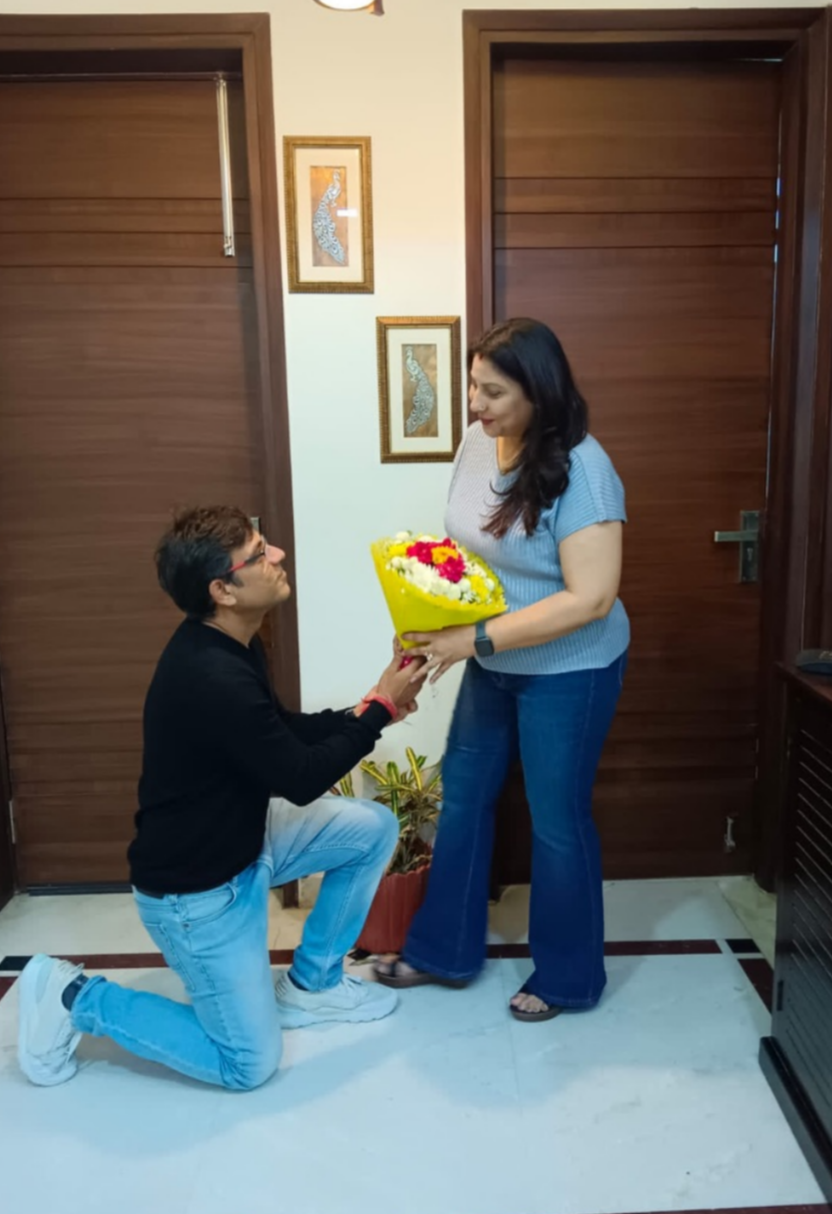 Though it was not always this way for him. Throughout his younger days he played competitive football and kept fit but a subsequent shaky entry into adulthood into busy corporate work culture saw him fall into the unhealthy
trap of bad habits like most professionals at a young age. Popping pills for headaches and acidity and to cope with daily stress had become a norm. It was during such time that his brother a runner, cyclist and shuttler, brought his
attention to his health situation and suggested he start a routine for fitness.On his behest he started running 2-3 kms at his local park and started a regular fitness routine. It was at one such session at the local
park that he had a chance meeting with some dynamic members of the running group Dwarka Xpress runners. At that point he didn't realise this routine of daily training with a group would be the catalyst that his health required . He soon discovered his innate ability to get into zone while working out and soon his confidence in his ability gained momentum as he started showing up for tough training sessions. This was during the same time when he confidently
signed up to take on the challenging and prestigious Airtel Delhi Half Marathon. Now he looks back in amazement as to how seamlessly he completed the half marathon with an impressive debut time. His enduring passion to achieve
his goal, advice from a strong running group and a supportive family had made him an overnight champion within the running community. Since then there has been no looking back for this talented "Everyday Elite"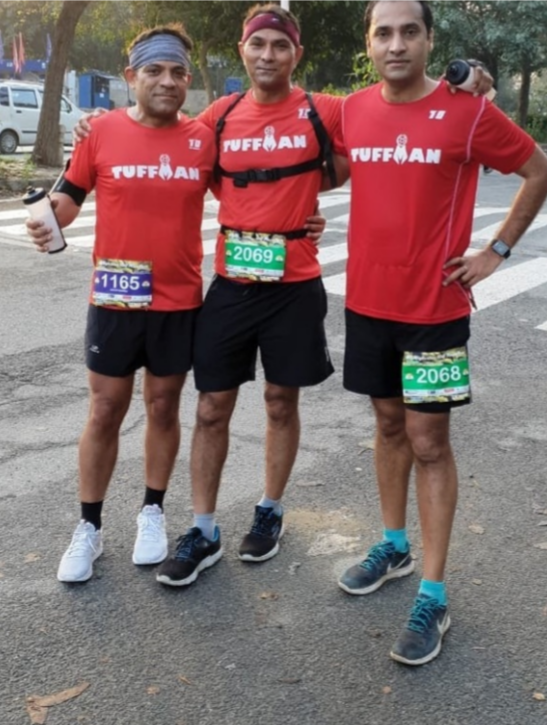 He has shown that one can become a true champion with training and deliberate practice especially in the
fun company of one's running buddies. He is a prime example of how by giving one's best effort each and every time we invariably make our fitness goals achievable. He, of course, manages all of this by staying humble and without ever forgetting the big picture.
With more that 150 half marathons, 8 full marathons and 4 ultras in his running kitty, there has been no looking back for this iconic "Everyday Elite". He also got an opportunity to test his superior running mettle as he went on the
historic run from Kashmir to India Gate , August 2022, as a part of the "The Great India Run 2.o". This delegation was a part of the national "Ghar Ghar Tiranga campaign". With this herculean challenge, done and dusted, he easily
cemented his place amongst elite group of young and fast-rising ultra runners in India, showing that he is a natural leader equipped with laser-sharp focus . His inane ability to bring out the best in both himself and many around him in his running community makes him an admirable and a beloved athlete. Now, he feels, running for him, is synonymous with breathing itself.
The pandemic did stir up some ups and downs in his life just like so many of us across the board but with his acute sense of paying it forward and friendship of his buddies within his running group, kept him grounded and strong
throughout the lockdown period. His training buddies are now are his go-to people for any support in his life. He swears by these friendships and says that training with them keeps him strong enough to navigate any tough situation that life would throw at him . " Everyday elite " runners toil tirelessly to pay it forward by getting as many people to benefit from running and a fit lifestyle. Anoop too pursues this high endurance sport while having a profound effect on the people around him as he exudes his effortless athletic candour in his daily runs. He is actively involved in supporting the running community in Delhi. During the covid period, he was the point person for any covid related emergency in his running group. Natural leaders like him have an ability to bring out the best in both themselves and those around them especially in time of crisis.
These "Everyday Elite" do not boast of a dramatically different genetic makeup but inspiring daily routines that show that endurance, power and agility are attained over a period of time, always silently backed with consistent effort and
basic human kindness. Anoop is a pioneer in his group for inspiring daily routines. His mantra for all newbie runners is to place importance on warm up and cool down exercises before any running workout sessions. This he feels is extremely important to remain injury free. He feels that the "beat yesterday" mentality is not sustainable
for new runners and that following proven training schedules in running groups are the best for long term benefits for runners. He also advise against comparing oneself with other runners and advises to focus on one's own customised training plan suggested by a trusted mentor. Even as he daily trains and tries to inspire as many people to take up running as a fitness lifestyle, he himself is working on a new and improved training plan for himself. For the year 2023 he has his eyes on the challenging Tata Mumbai Marathon and the most daunting Khardungla
Marathon . With his favourite tagline being #followyourpassion we are looking forward to follow his running journey well into year 2023.
Everyday Elite
Smita Dixit
'Rest, Restart, Focus as many times as you have to , just don't quit'
How wonderful it is to run ! We have heard many runners say this!
Our next everyday elite , an Ayurvedic doctor by profession says that everytime she heads out the door, no matter the
distance or the time, she is immensely grateful for the opportunity to put one foot in front of the other. It is an
opportunity to be closer to her fitness goals. Running daily for fitness since 2016, this 49 year old, mother of
two, feels fortunate that something so simple like running brings so much joy to her. She feels it to be a privilege and and she cherishes each and every step she takes during her daily workout.
Her fitness journey started in Mumbai where as a working mom she had countless sources of stress, leaving her barely with 30 minutes of her time of the day to finish a small walk. However, when a fatal fall from the staircase confined her to the bed for a good 4-5 months, she knew she had to follow an aggressive approach to get back to her
fit life. With the bones of her legs put into place by metallic plates and screws she was fast losing all confidence of leading a normal life ever again but her strong mind did not allow her to wallow in this fear for long.
Smita was not ready to give up any time soon and holding fort under this stressful time she pushed herself to try and walk daily. After 8 months of daily struggle to get moving despite being dependent on an attendant for every menial job she didn't lose hope to move on her own. She recalls this time as the most mentally-challenging and tough time. With half the battle won she knew she had to strengthen her weak legs. Switching on to a mental state of total focus, she continued walking more, despite being slow. Regardless of the pain and struggle, she stayed focussed on getting
stronger, not just better. She slowly learnt to be tuned into to her fit state of mind each and every day. Soon she was jogging at her local park and even met some top-tier athletes who inspired her to not let her passion for getting fit, wane even a little bit. She got inspired to take her running to the next level and started training for marathons.
The need to succeed physically came from within her and in 6 months itself she had successfully completed a 10km run and within 10 months a half marathon. She soon was thriving under the satisfaction of finishing marathons and the challenge of training for more runs was like a gift, a gift of a new lease of life.
With a her enduring passion and grit to lead a normal life she kept her routine of running. By 2017, when her support plates were removed from her legs, she was already on her way to attempt and finish 3 marathons, two 12 hr ultra runs, a stadium relay run and various 10km and 21km runs. A prime example of courage and resilience Smita's run journey is nothing short of enviable. With a desire to become a top-tier runner she received a surprising bonus of
winning her first podium female 12.5km at the BNP ultra-run at Sanjay Gandhi national park in Mumbai in year 2018. With many prestigious wins like a silver podium in 10km at th IDBI federal Mumbai marathon(age category) and another silver podium at the GSC spirit of sports 2020 event in Mumbai, Smita is truly an iconic runner to
follow in the running community.
Till date she is willing to be coachable and thrives on regular challenges she takes on with her running group.
She feels that consistency and training is the key for anyone to take up running as a sport. Her passion for running keeps her grounded and even a new city couldn't stop from the path she had chosen. She soon joined a vibrant running group and continues an enviable running training routine. She trains with the group before she leaves for work and never misses her LSD runs on Sunday. She continues to compete and knows that as long as she keeps running she will never lack resilience to bounce back from any setback. She believes consistency is the key to
achieving any running goal and now has her eyes set on taking on the Tata Mumbai marathon in January and the Khardungla challenge in September in the year 2023
Everyday Elite
Sohan Sharma
"The man who can drive himself further once the effort gets painful is the man who will win"
As more a more people realise the fact that keeping physically fit can dramatically improve the quality of their life and make them live longer its safe to say that there are many takers for this 'endorphin hit' called running. They say, as runners, it is not about how far your legs can go, it is about how far your mind can take you. Although every runner starts their fitness journey for a variety of reasons, research clearly shows the reasons why people start running are vast and varied and most times as unique as the people themselves. Running as a sport has no remote
control. Each day requires an equal effort. After all plans fail, life gets in the way, things get hard but they all know the real secret is not giving up. Thats the magic pill. The never give up attitude. !
One such "Everyday Elite" is 52 year old Sohan Sharma, a legendary runner, who over a period of time has shown to the running community that being disciplined is the easiest way to stay motivated. This father of two grownup sons started running 5 years ago with his running group DXR . For Sohan, running is an obsession, an obsession to
do whatever it takes to be the best. His focussed concentration as he tackles any type of run has led him to achieve  many unbelievable milestones as a runner.
His running buddies know that he has a tangible vision for all of his runs and is keen on growing his run trajectory with each year. In 2021 itself he ran an unbelievable consecutive 100 half marathons as a part of the virtual event
Hundred Days of Running. A much revered and irreplaceable member of his running group, he shows a vulnerability of taking on new challenges with his teammates, showing that one learns more from taking calculated risks.
He is a proud daily runner and with his day starting at 5:45 am alongwith his morning gang. He is much respected
for his teamwork and consistency. Since the initial days of his joining the running group it was evident that he could
perform well under pressure and displayed an upward learning curve with each new run. He has a full time job, taking care of documentation of property at the Delhi registration authority, Janakpuri and believes that that after a
great run one can produce their best work and feel a heightened sense of concentration at work too. Many group members clamber to run the track with 'Sohan sir 'as they lovingly address him as he seems to show an effortless
way of working towards his running goals.
Displaying humility and kindness with each of his runs, Sohan stands heads and shoulders above the league of runners in Delhi-NCR . He is a  crucial member of any important delegations to various marathons, The Ladakh
marathon, Morni Hill Marathon and various national level major runs of Delhi NCR like ADHM/ NDM/Super Sikh to name a few.
Ultra running is his entire way of life now. He has championed as a strong runner as he believes that learning from failure or setbacks is all a part of setting goals and without it there is little room for evolving new abilities. It is
safe to say that as a runner he enjoys running outside his comfort zone, paving the path to some strong lasting
running habits. Using this ideology he approaches every new running challenge with great enthusiasm with his
running group. In 2023 too, his quest for perfection is going to make him a contender for a cracker of a performance at the Tata Mumbai Marathon 2023. From here he wishes continue to move forward towards his dream of qualifying for the Boston marathon.
Everyday Elite
D P S Rawat
"Passion is energy, Feel the power that comes from focussing on what excites you!"
To shed light on the mental dimension of an Everyday Elite we can safely say that their patience and perseverance is evident as we see them unapologetically show up for all level of athletic challenges. They have fine tuned their mind into compartmentalising their worries and aim focus on the task at hand. They would always be the ones to finish their cross lines having given their all. Such is the story of our next "Everyday Elite" D P S Rawat who believes that his love for running can be simply understood in one simple line "Life is a marathon run it".
A retired ex-banker belonging to an army family started his running journey just as a hobby and proudly shares that running for sport is in his "Pahadi" blood. After retirement while his peers were taking on new work assignments he decided to be home to take care of his family, especially his wife. He found running to be that catalyst for him. He knew it was absolutely necessary to remain fit. Despite hardly finding spare time to run he knew that running gave him courage to make changes in his life and feel stronger. During his most vulnerable time, running helped him to
take a bit of control back in their own hands.

Running 20 minutes a day might sound like a lot of exercise to some, or not much to others. However, it was clear to him that just about anyone can benefit from a daily 20 minute run. Such was the start of a wonderful journey of our
'Everyday Elite' D P S Rawat. In his initial days of running as he was a solo runner he went through the whole process of trial and error and ended up injuring himself in one such run. He was cautioned by the doctor against any running or exertion. Instead of losing hope, he like any 'Everyday Elite', developed a compulsive need to work on
their deficiencies and improve himself.
Determined to continue be fit he joined a wonderful running group and started regular runs. A chance suggestion, from a running group mentor Madan Godara, saw him sign up for a 5km in the senior citizen category at an upcoming marathon. He ended up returning home triumphantly with a podium
finish in the Hindustan marathon, his first glittering trophy!. This confidence led to more practice runs with this running group and he went on to many other running endeavours like successfully finishing the Airtel Delhi Half Marathon in 2 hour 6 minutes. From here on he has become a firm believer in consistent training and his tag line became "life is marathon run it".
He gives all the credit of his running success and resilience to his buddies in his running group DXR. To his name he has an admirable 50+ podium finishes at various Delhi-NCR marathons in open and age category. As a runner he too faces various obstacles in his runs and many times his mind wants to give up. He has, however, always found strength in the sense of belonging in his running group. Emotional support from friends and family keeps him grounded as runner and he aspires to keep taking his performance to a higher level with each run.
He feels that running is a complete exercise and with a mix of yoga and mobility drills he continues to feel fit and agile. On days he cannot complete his workout he feels as if he has missed out on something precious . This running
frenzy is now a full blown passion for this "everyday elite". His goal for the next year is to keep competing in the big runs in Delhi-NCR region and keep beating his previous year's timing. He has a clear vision for himself , he wishes to do some local runs and get competitive by acquiring atleast 12 podiums minimum. In the year 2023 he would be seen competing in the New Delhi Marathon in January and the acclaimed Super Sikh run in February.