Media Seminars, Workshops, Motivational Sessions, Awards Gala Dinner, Musical/Cultural Program by Hedge Group with renowned artist from India and the United States, and Networking were the key highlights of the 9th annual International Media Conference organized by the Indo-American Press Club (IAPC) at the Hilton Stamford Convention Center in Stamford, CT from October 7th to 9th, 2023.
The theme for this year's conference was "Bridging Borders: Media's Role in a Globalized World," a topic that holds immense significance in today's interconnected and rapidly changing world. Dozens of media persons from the United States, Canada and India participated at the power packed conference which included workshops and panel discussions on social media influencing and defamation laws and a motivational talk by a corporate trainer on 'Emotional Intelligence: How to Become a Success Magnet.'
In his inaugural address, Kamlesh C. Mehta, Chairman of IAPC said, "It is an absolute honor to stand before you as the Chairman of this prestigious organization. I am deeply humbled by the opportunity to address this gathering of media professionals, journalists, and distinguished guests. The Indo-American Press Club has always been at the forefront of promoting cultural exchange, fostering dialogue, and encouraging collaboration between India and the United States. This conference embodies our commitment to these ideals."
Mr. Mehta said, "In the spirit of our conference's theme, let us pledge to continue building bridges, not walls. Let us commit to facilitating open and honest dialogues that transcend boundaries and promote mutual respect. Let us strive for a world where information is a force for unity, not division. I want to take this opportunity to express my gratitude to all the speakers, panelists, and participants who have traveled from near and far to share their insights and expertise during this conference. Your contributions will undoubtedly enrich our discussions and contribute to the growth of the Indo-American Press Club as a platform for constructive dialogue."
The inaugural ceremony began with a welcome speech by IAPC General Secretary C G Daniel and was followed by the lighting of the lamp by IAPC leaders and local Chapter leaders. Ginsmon Zachariah, founder chairman of IAPOC administered the oath of office to a dozen new members, who joined IAPC as its new members.
Prof. Sujata Gadkar-Wilcox, in her keynote address said, "This is a particular honor for me because I feel connected to this community and this work for two reasons. First, as the child of Indian immigrants, I see the world through a kind of duality of cultures. Culturally, my values reflect a South Asian immigrant household that recognizes the role of education in breaking down barriers, the role of communities in uplifting the individual, and the centrality of family in the background of every personal and professional opportunity. My values also reflect a commitment to democracy, equality, and justice that come from my lifelong engagement with the United States Constitution."
Prof. Gadkar-Wilcox reminded the media persons that "Journalists provide the foundations of that democratic culture, by enabling facts to be presented, truths to be told, and vulnerabilities to be exposed. And you bring a particularly unique voice to this work, as I have learned that I bring to public life, because you live in this duality as well. You understand both global and local perspectives and you bring that intersectionality to life in your stories. Thank you for all that you do to help strengthen our democracy."
According to Prof. Gadkar-Wilcox, "Journalism provides us an opportunity to strengthen human rights by strengthening our democracy. Journalism educates, it helps people relate to one another, and brings together those who may be different, but who can advocate for a common cause. Thank you for helping us all maintain that commitment to democracy and human rights! And thank you for educating the public!"
Sujata Gadkar-Wilcox is Chair of the Department of Justice and Law, and Associate Professor of Legal Studies at Quinnipiac University. She is also Executive Director of the Oxford Consortium for Human Rights and a Fulbright-Nehru Scholar. Sujata was recently appointed by Governor Ned Lamont to serve as a Commissioner on the Commission on Human Rights and Opportunities in Connecticut (CHRO).
The first day of the conference came to a close with a colorful and thrillingly enjoyable  musical and dance extravaganza presented by RHYTHM 2023, led by Anna Prasad, Aishwarya Devan, Vidya Vinu Mohan, Abhijith, Kalpana (Choreographer) George (Keyboard) and Sunitha- Dance Co Ordinator. Jacob Abraham from the popular Hedge Funds Entertainment hosted the evening cultural show. The inaugural event on the first day ended with the Vote of Thanks proposed by IAPC Treasurer, Joji Kavanal.
In her keynote address during the Awards Gala, Meera Gandhi spoke about "The Role Of Media In A Polarized World"  and drew the attention of the audience to the fact that "Most news organizations today aspire to a goal of delivering quality information that can promote healthy dialogue among members of the communities some succeed better than others, but it's more challenging to do this in a society today, in the midst of partisan, polarization, culture wars, foreign campaigns using technology platforms to divide, there is a shortage of moderate voices among political leaders, and no shortage of activists exploiting, extreme and divisive rhetoric "
Ms. Gandhi suggested 3 strategies to reach polarized audiences: "1.affirm a common sense of humanity deeply understand we are one consciousness, and one human connected by breath. This will affect your reporting; 2. story framing have conversations within your news rooms before putting out stories so that better framing could have power to deliver more truthful information to polarized audiences; and, 3. Do richer interiors. Avoid divisive, nuances and softer textures should be used to discuss potential problems in a non-divisive manner."
Ms. Gandhi reminded the media persons that "The future of millions of people are in your hands you the press, the journalists, the media outlets, the O TP platforms – you have a very serious responsibility —do not handed over to demagogues and self-interest people. We are an amazing race let's stay connected, undivided, happy and informed. You the journalist here today can make this happen. I salute all your efforts!"
Ginsmon Zachariah said, "IAPC members are dedicated to fulfilling the vision of enhancing their own journalistic skills, while striving to help fellow journalists and future generations work towards the common cause of enhancing the well-being and efficiency of all peoples of the world."
In his welcome address, Ajay Ghosh, Secretary of the Board of Directors, IAPC said, "IAPC was formed to bring together media groups and the Indian media fraternity, across North America, under one umbrella, to work together, support one another, and provide a unified voice to the mainstream media world and the larger community."
Among the distinguished guests who attended and graced the Conference included, Ms. Nimmi Mehta, Advocate A. Jayashankar, PP James, Editor in Charge at 24 News,  V. Aravind, Assistant Executive Editor at 24 News.
An IAPC souvenir 2023 was released during the Conference. Its editorial team led by Dr. Mathew Joys, a well-known writer and Columnist in North America, and Shan Justus, a tech expert presented the 1st copy to IAPC Chairman Kamalesh Metha. A book, "Padmasreeyum Swathanthryavum" by Joseph John from Calgary was also released during the Conference.
Social Media Influencer Awards were presented to: Korason Varghese, a columnist with Malayala Manorama, a leading Malayalam News; Dr. Alice Mathew, a professor at the University of Nevada, Las Vegas, known as an inspirational professor and a motivational speaker; and Meera Nair, a Cine actress, poet, dancer, writer, and media person. Joseph John Calgary, a freelance journalist and founding member of the Canadian Freelance Guild and CWA Canada was presented with Community Leader Award.
The Essay Competition Prize winner in Senior Category was Gautham Krishna Saji, 11th Grade Midwood High School, NY for his Essay on: PRESS FREEDOM IN DANGER. The winner in the in Juniors Category was Sameera Kavanal, 9th Grade, Yorktown High School, NY for her essay on: WHY I LIKE/DISLIKE SOCIAL MEDIA. Kaitlyn Dan Thomas, Grade 5 at the Calvary Christian School, Atlanta was given a Prize of Appreciation.
A lively seminar on "Social Media Influencers: Challenges & Scopes" moderated by Dr. Mathew Joys had Adv. Jayasankar, Korason Varughese, Joseph Jøhň (Calgary), Meera Nair, Dr. Alice Mathew, Nisha Jude, P P James and B Aravind as panelists.
Ashok Arora President NRI International Love All, Motivational Speaker, Author, Lawyer, Teacher, Human Rights Activist, Film Maker, and  Mediator offered a special presentation on Media and Legal Issues. Arora spoke in detail about the defamation case on Rahul Gandhi, and answered questions from the audience. Prof. Anil Bhatnagar, a motivational speaker inspired the audience with his power speech.
Able Cherian, a proud supporter of IAPC and coming from Dubai to be part of the Conference was felicitated with a Memento. Also, Regi Philip, Director IAPC, CEO GTE Travels on Stage was felicitated for his support to IAPC.  Felicitation by community leaders and IAPC members included: A. Jayashankar, Jacob Kudasanad, Sunil Manjanikkara and James Chacko. Azad Jayan from IAPC Niagara Chapter proposed the vote of thanks. The Conference was eloquently emceed by Aditi Vyas.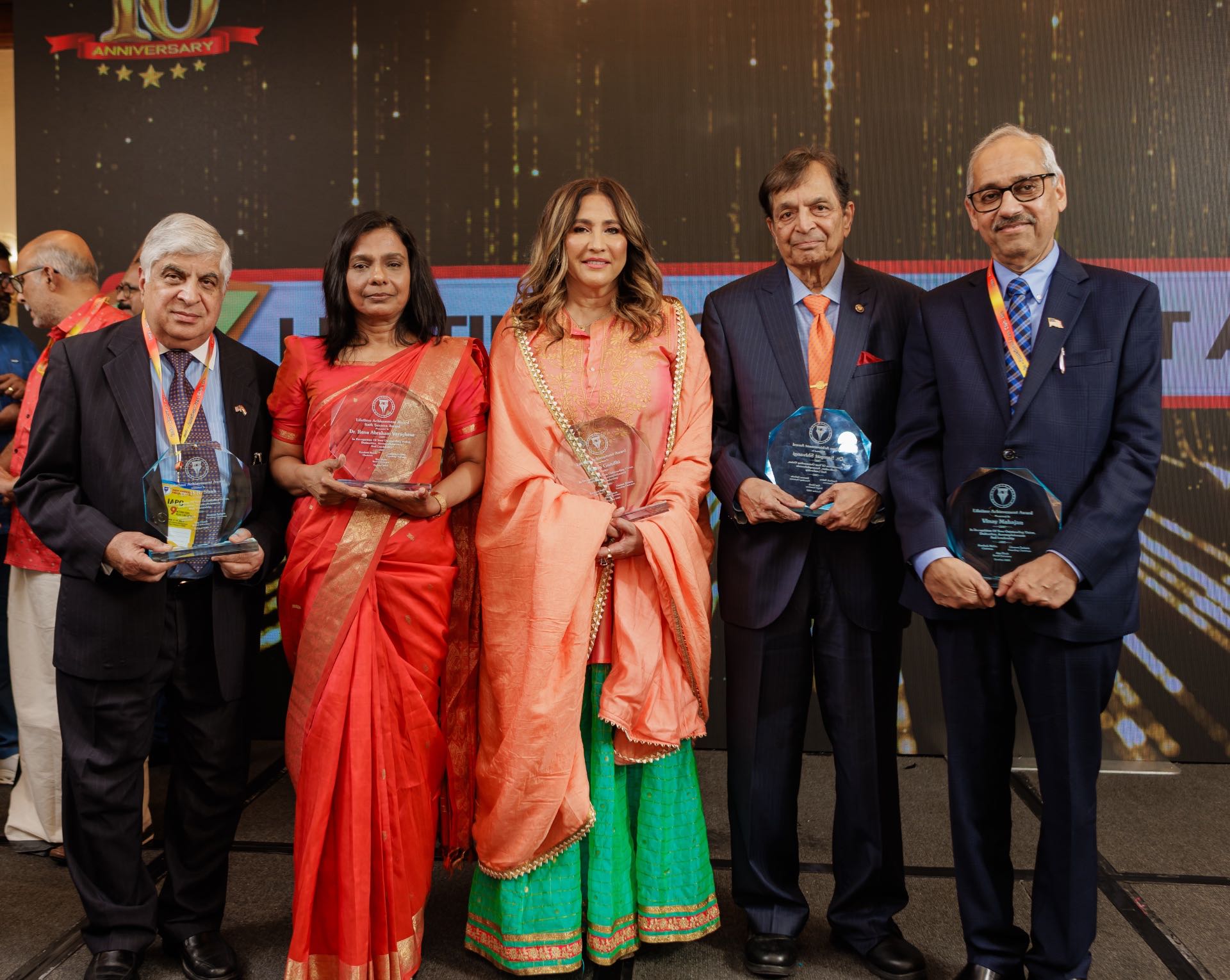 The prestigious Lifetime Achievement Awards were conferred during the closing gala on the evening of Sunday the 8th. The honorees who received the awards included:
VINAY MAHAJAN (Entrepreneurial Excellence). He is the National President of ITServe Alliance Inc., an association of 2200 + SME US IT companies.
Padma Shri H.R. SHAH (Media & Arts), Chairman & CEO of TV Asia Group.
MEERA GANDHI (Philanthropist). She is the founder of the Giving Back Foundation and a recipient of the Ellis Island Medal of Honor (2015).
Dr. SAMPAT SHIVANGI (Community service, medicine). A physician, he is a veteran leader of AAPI, recipient of the PBD Samman Award in 2016 and Ellis Island Medal of Honor 2008.
SHAJAN SKARIAH (Excellence in Journalism). He is a promoter and editor of the online portal "Marunadan Malayali".
Dr. RENU ABRAHAM VARUGHESE (Excellence in Elder Care). She is an Associate Professor at the School of Health and Natural Sciences, Mercy University, NY.
IAPC was formed to unite the Indian diaspora media fraternity across North America under one umbrella to work together, support one another, and provide a unified voice in front of the mainstream media and the larger community. Every year IAPC hosts media conferences bringing together renowned journalists and media professionals from various countries around the world, and hosts workshops and seminars. For information regarding IAPC, please visit: www.indoamericanpressclub.org